UEFI Setup
Прошивка материнской платы MSI 970A-G45 основана на микрокоде AMI UEFI. Меню имеет красивый и удобный графический интерфейс Click BIOS второго поколения. Напомним, что внешний вид меню в первых версиях прошивок системных плат на чипсетах AMD 9-й серии был несколько иным, практически не отличимым от классического BIOS. Поэтому новый интерфейс можно считать существенным шагом вперед и навстречу пользователям. После входа в прошивку мы попадаем в главное меню, в котором отображается текущие дата и время, две температуры, информация об установленных процессоре и модулях ОЗУ. Интересно реализован выбор загрузочных устройств: для установки необходимого порядка достаточно поменять иконки местами. Обращаем ваше внимание, что прошивка содержит три предустановленных профиля: ECO Mode, Standard Mode и OC Genie II Mode. Первый из них соответствует режиму пониженного энергопотребления, а последний — активирует автоматический разгон. Мы же рассмотрим режим Standard Mode, дающий пользователю свободу ручного выбора настроек.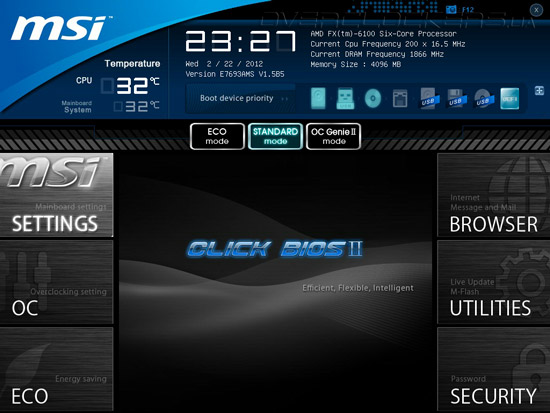 Раздел Settings включает подменю System status, Advanced, Boot и Save & Exit.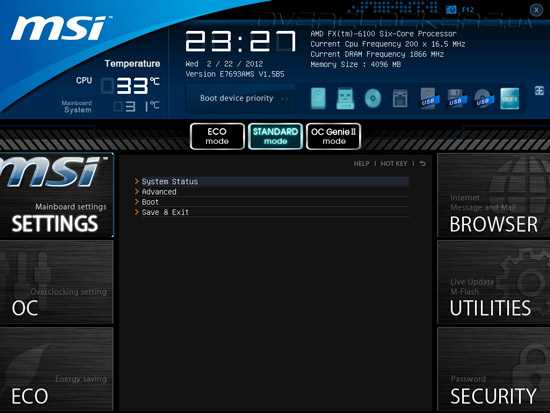 System status позволяет установить дату и время, выводит информацию о накопителях, версии прошивки, объемах оперативной памяти и процессорных кэшей.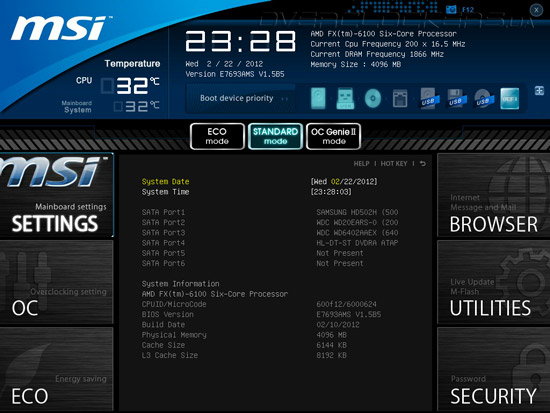 Во вкладке Advanced сосредоточены настройки системной логики, дополнительных контроллеров и управления электропитанием материнской платы.
Здесь же можно найти раздел системного мониторинга Hardware Monitor. Содержимое данного пункта прошивки весьма сдержанное. Выводятся показания температурных сенсоров центрального процессора и материнской платы, а также тахометрические данные трех вентиляторов. Для двух из них можно управлять скоростью, причем, для «вертушки» процессорного кулера обороты регулируются в зависимости от температуры, а для оставшегося можно задать частоту вращения в процентах от максимальной.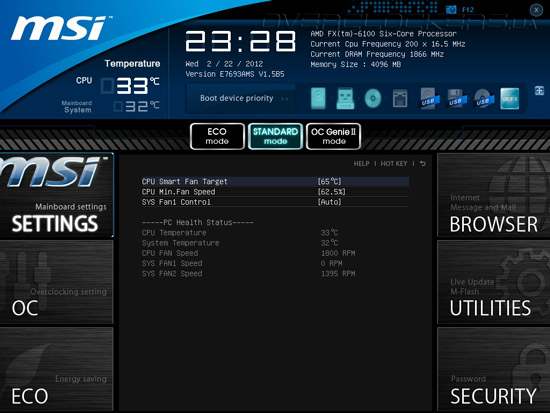 Все настройки, связанные с разгоном и управления производительностью, сосредоточены в меню OC — Overclocking Settings. Пользователь получает полный контроль над частотами тактового генератора и шины PCI Express, множителями вычислительных ядер, встроенного северного моста и шины Hyper Transport. Для процессоров, поддерживающих технологию AMD Turbo Core можно вручную установить соответствующие множители, задать предел режима Max Turbo, а также указать необходимое количество вычислительных модулей.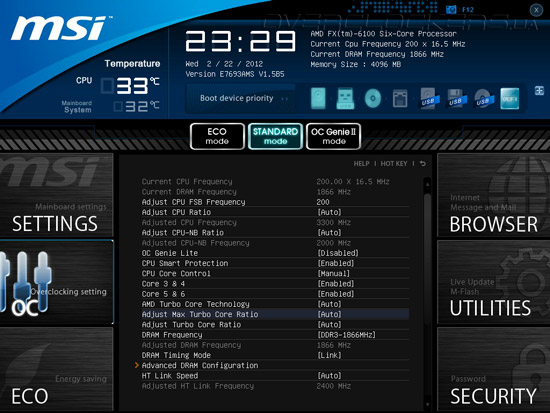 К услугам любителей разгона регулировка пяти основных напряжений.
Их перечень, диапазоны регулировки и шаг изменения представлены в следующей таблице:
| | | |
| --- | --- | --- |
| Параметр | Диапазон регулировки, В | Шаг, В |
| DRAM Voltage | 1,108—2,471 | 0,007. 0,008 |
| SB Voltage | 0,812—1,812 | 0,005. 0,006 |
| NB Voltage | 0,812—1,812 | 0,005. 0,006 |
| CPU Voltage | 0,989—2,034 | 0,001. 0,00275 |
| CPU-NB Voltage | 0,916—1,898 | 0,0005. 0,02 |
Рассматривая возможности MSI 970A-G45 по управлению электропитанием, не следует забывать, что перед нами бюджетный продукт, поэтому управлению поддаются только напряжения на основных узлах материнской платы. Зато диапазоны изменения весьма велики, так что при разгоне необходимо соблюдать осторожность и, как минимум, обеспечить эффективное воздушное охлаждение компонентов. Нельзя не отметить высокую точность подстройки и переменный шаг изменения. Последняя особенность, похоже, стала визитной карточкой системных плат MSI.
Подраздел Advanced DRAM Configuration открывает возможности установки всех основных параметров оперативной памяти. Богатство настроек позволит настроить на максимальное быстродействие практически любые модули ОЗУ.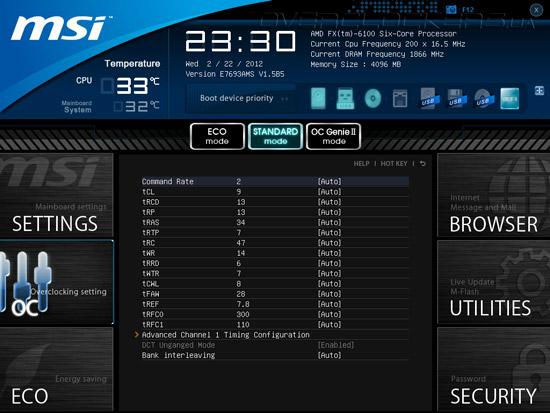 В меню Overclocking Profiles можно сохранить шесть наборов пользовательских настроек.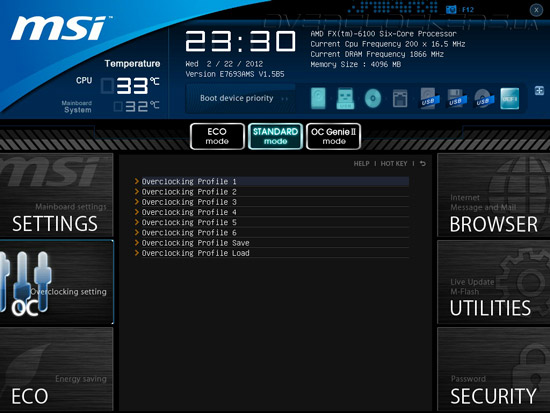 Еще один важный раздел, отвечающий за производительность — CPU Features, в котором сосредоточены параметры энергосбережения и активации процессорных технологий, таких как аппаратная виртуализация и IOMMU — функция трансляция логических адресов в физические.
Обращаем ваше внимание на опцию HPC Mode, которая активирует режим High Performance Computing (вычисления высокой производительности). Включение данного режима способно повысить на несколько процентов быстродействие процессоров AMD FX в тяжелых многопоточных задачах ценою некоторого увеличения тепловыделения.
Последний пункт прошивки, на который мы подробно рассмотрим — ECO. В этом разделе не только можно активировать режим динамического управления количеством питающих фаз (Advacned Phase Switching), но включить энергосберегающие функции центрального процессора. Здесь же выводятся показания четырех питающих напряжений.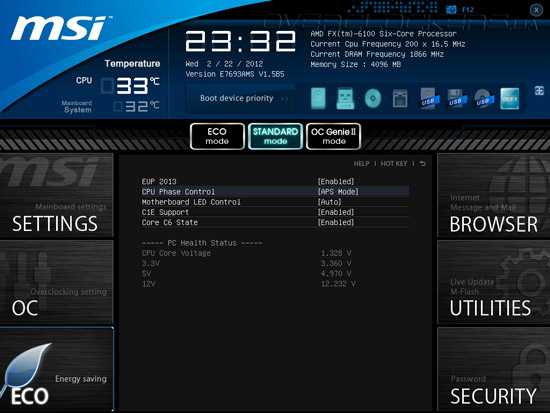 В заключении отметим, что в UEFI системной платы MSI 970A-G45 имеются встроенные средства для резервного копирования накопителей HDD Backup, обновления прошивки Live Update. Здесь же можно встретить утилиту для работы с микрокодом UEFI M-Flash.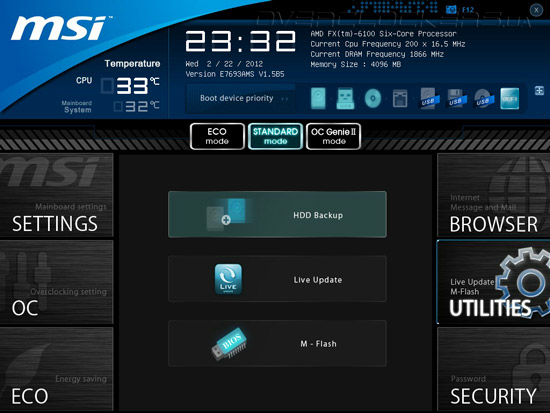 Заметим, перед работой функций HDD Backup и Live Update требуется предварительно инсталлировать на жесткий диск облегченную операционную систему Winki 3, для использования которой необходимо перейти на вкладку Browser в главном меню прошивки.
Таким образом, прошивка Click BIOS II материнской платы MSI 970A-G45 оставила самые благоприятные впечатления. Её интерфейс функционален, а стабильность работы не вызывает ни малейшего нарекания. Конечно, к особенностям данной реализации UEFI необходимо привыкнуть, благо, логичное расположение всех основных разделов этому всячески способствует. Наличие всех необходимых настроек позволяет надеяться на неплохой разгон, практические исследования которого нас ждут впереди.
Комплектное ПО
Вместе с материнской платой MSI 970A-G45 покупатель получает комплект полезного программного обеспечения. Вниманию пользователей предлагается пробная версия комплексного антивирусного пакета Norton Internet Security 2011 от Symantec, все необходимые драйверы, а также набор разнообразных утилит от MSI. Одной из самых интересных является Control Center — программа для аппаратного мониторинга и разгона системной платы из среды MS Windows.
С функциональностью Control Center мы хорошо знакомы по предыдущим обзорам продуктов MSI, так что сегодня лишь напомним его основные возможности. В режиме Overclocking в главном окне программы выводится подробная информация о системной плате, установленном центральном процессоре и ОЗУ. В нижней части окна находятся установки разгона, можно управлять множителем вычислительных ядер, частотой НТТ и пятью основными напряжениями.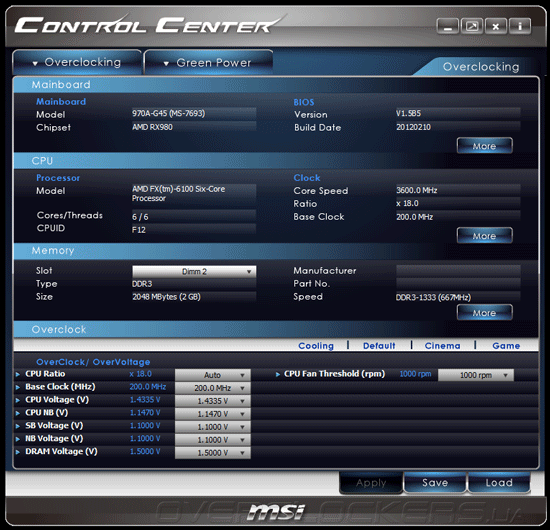 Как можно заметить, Control Center не позволяет изменять тайминги модулей оперативной памяти. Очевидно, таковы особенности функционирования программы на материнских плата Socket AM3/AM3+, так как в тестах модели для Intel Sandy Bridge настройки задержек ОЗУ присутствовали.
В режиме Green Power выводятся показания аппаратного мониторинга, среди которых напряжения на шинах источника питания и основных компонентах системы, а также показания двух температурных сенсоров. Кроме того, контролируются скорости вращения трех вентиляторов, а для двух из них можно настроить режим работы.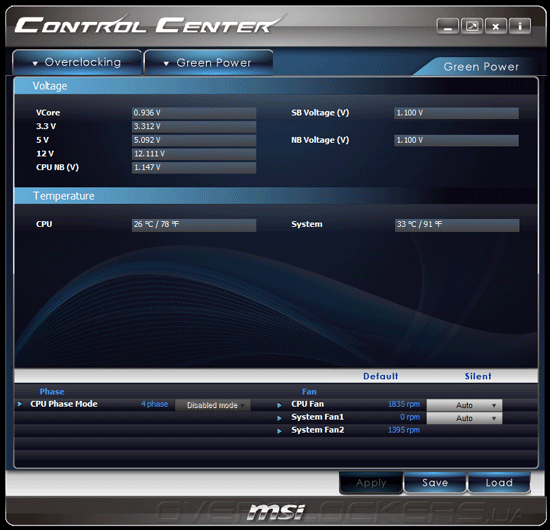 Еще в меню Green Power можно включить технологию APS (Advanced Phase Switching), а во вкладке LED/Temp — контролировать её работу.
Обратим ваше внимание на реализацию автоматического разгона материнской платы в программе Control Center. В зависимости от потребностей, пользователь может воспользоваться одним из предустановленных профилей: Cooling, Cinema и Gaming, либо активировать функцию автоматического разгона OC Genie II.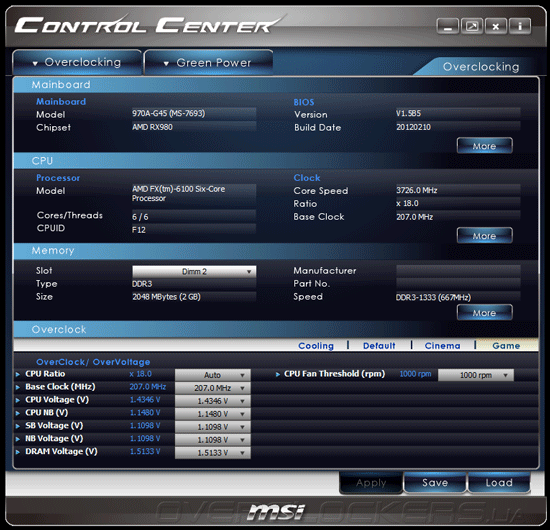 Следует отметить, что оба способа работают достаточно эффективно, но в первом случае параметры быстродействия применяются «на лету», а второй способ потребует перегрузки.
Таким образом, фирменное программное обеспечение MSI Control Center является достаточно интересным продуктом, позволяющим контролировать состояние платы и управлять некоторыми параметрами разгона. В то же время, небольшое количество настроек объясняется невысокой функциональностью самой MSI 970A-G45.
Providing Tips One Byte At A Time.
Today, we are going to talk about the Application Power Management (APM Master Mode) and HPC Mode (High Performance Computing) BIOS settings that are available on many AMD Motherboards using Socket AM3+ CPU's. It seems there is a lot of misinformation on the web concerning exactly what these settings mean, and how they effect your CPU, especially in overclocking situations. In this post, we will explore what these settings mean, what effect they have, and if you should enable or disable them.
So without further delay, lets get started.
AMD Application Power Management (APM Master Mode) -According to AMD, Application Power Management is a technology inside your AMD FX CPU that works in conjunction with AMD Turbo Core technology that will allow your CPU to reach Turbo Core speeds (running above base clock speed) as long as there is thermal and voltage headroom available.
Take the FX 8150 as an example, it has a base clock of 3.6 GHz. It can Turbo Boost to 3.9 GHz when up to 8 cores are active, and Boost up to 4.2 GHz when 4 cores or less are active, As long as there is thermal and voltage headroom available to do so. If the CPU is under heavy load and there is no headroom available, the CPU will run at its base clock rate of 3.6 GHz.
Now notice the part I underlined above. What is Thermal and Voltage headroom? This refers to the CPU's TDP(Thermal Design Power). the definition of TDP is the max amount of heat generated by the CPU that the cooling system is required to dissipate under operation. Voltage and clock rate play a big role in maintaining such a TDP. APM also ensures your not putting to much stress on your motherboards VRM and power phases which most times don't have the cooling solutions or active fans like your CPU does. In my FX 8320 undervolting guide, I show you how lowering CPU vcore can make a significant impact on CPU temperatures, especially under load.
In a nutshell, AMD Application Power Management BIOS setting ensures the CPU stays within the 125W (8 core) or 95W (4 and 6 core) TDP the chip was designed for. I have seen many say that APM causes the CPU to throttle, this is both true and false. It is true that sometimes APM causes this, but throttling is not what it always does. there are times where it will slightly lower voltage while keeping the CPU at a higher clock rate.
HPC Mode (High Performance Computing) — HPC Mode is a setting in the BIOS that prevents the CPU from lowering and locking its clock rate under load in certain conditions. In some benchmarks, HPC Mode can increase performance by about 6%, but these performance improvements are only realized in benchmarks like HPL. Dell tested this setting for the AMD Interlagos Server based CPU's and saw very little performance increase outside of HPL benchmarks. HPC Mode did however increase power consumption and power draw for very little benefit.
In a nutshell, HPC Mode prevents the CPU from locking and lowering its clock rate when the chip is either getting close to going over the TDP, or the motherboard CPU socket temp is getting to high. This is not always true in all cases though, because in certain situations, the CPU can still drop and lock its clock rate under load. This setting is more geared to very specific environments such as clustered computing where there are specific applications running that would benefit from this setting. Those situations are not your average home user.
Should I enable or disable Application Power Management and HPC?
As an overclocker myself, I would say No. Do not disable Application Power Management, and don;t enable HPC Mode.
All disabling APM does really is cause your CPU to run outside the 125w TDP range. In essence, your drawing more power and voltage, and creating more heat for very little benefit. The same goes for HPC Mode. Unless your running some cluster server with very specific applications, enabling HPC mode is just going to generate more heat and power draw for very little benefit.
I can say 99% of CPU throttling problems on FX CPU's are due to either buggy BIOS in need of an update, or the more commonVRM throttling. Your motherboard will throttle the CPU if the VRM phases get to hot or outside of a safe zone coded in the BIOS. This is hard-coded in and set to help prevent frying your motherboard.
This is most common on the AMD 970 chipsets and the lower end boards that have 4+1 power phase designs. These are not high end power phase designs, and even an FX CPU at stock will throttle on these boards. Moving up to a 990FX board with a 6+2 or greater power phase design and good beefy heatsinks on the VRM and chipset will result in throttling problems going away without even having to change or mess with those BIOS settings.
In my experience, on an Asus M5A99FX Pro Rev 2.0 board, enabling and disabling APM and HPC Mode had no discernible effect whatsoever in any of the applications or games I run. I was still able to push 60 FPS solid in Crossfire on games such as Skyrim, Devil May Cry, Tomb Raider, and other titles with APM enabled and HPC Mode disabled. the only difference I saw between APM disable and HPC Enabled was higher core temps, high socket temps, and more power draw. The performance of the games and applications was identical.
The throttling many say these CPU's do, on the right motherboard with a 6+2 phase design or better, without buggy BIOS's are merely cosmetic. The FX 8350 dropping to 2.9 GHz for 1 millisecond or less before jumping back up to 4.2 GHz Turbo in game will not be noticeable whatsoever, as these drops are algorithm based to do so when the CPU has room to do so. There is more too these settings then just throttling, sometimes, it may just slightly drop Vcore while maintaining base clock rate to lower heat and keep the TDP profile, othertimes, it will boost voltage and multiplier to give you a boost.
The only time and situations I would recommend Disabling APM(Application Power Management), and enabling HPC Mode is if you have:
1. A very good preferably high end liquid cooling solution for your CPU for planned high overclocks in the 4.9 to 5GHz range that would go over the TDP limit anyways.
2. You have custom heat sinks and active fans on your motherboard's VRM, Northbridge, and other chips on your motherboard.
If your not overclocking that high and don't have the active cooling for your motherboard, I would err on the side of caution against it. If your having throttling issues, they are more then likely related to motherboard VRM throttling or buggy BIOS. In these cases, either invest in a better motherboard, or see if you can get your motherboard manufacturer to update the BIOS to fix the issue.
I hope this answered your questions, and as always, comments are always welcome!
Image By User:Pepetps (Own work) [Public domain], via Wikimedia Commons
Disclaimer: I am not responsible for anything that may happen to your PC when changing settings or changing registry values. If you choose to make changes, you do so at your own risk.. You are solely responsible for any damage to your computer , data, or other hardware due to user error, inadequate cooling, too high of voltages, incorrect software settings, and any other factors. Please remember to back up your computer before attempting this. If overclocking, Do not Overclock on the stock AMD or Intel CPU Heatsink and fans. Use Aftermarket cooling heat sinks of sufficient TDP or water cooling to ensure best chance of not having premature hardware failure. As always, remember to backup your data before attempting any change. I am not responsible for data loss or damage of any kind.
Available Languages
Download Options
For Cisco UCS Blade and Rack Servers Using Intel Xeon Processor E5 v4 and E7 v4 Family CPUs
Purpose and Scope
What You Will Learn
BIOS Tuning Scenarios
Cisco UCS BIOS Options
Processor Configuration: Intel SpeedStep and Turbo Boost Technologies
Processor C3 and C6 States
Core Multiprocessing and Latency-Sensitive Single-Threaded Applications
Energy or Performance Bias
Power Technology Setting
CPU Prefetcher Settings
Memory Performance Settings
CPU Snoop Settings
BIOS Settings for Various Workload Types
Online Transaction Processing
Java Enterprise Edition Application Server
Analytic Database Systems
Configuring the BIOS for Optimized CPU Hardware Power Management
Recommended Power Management Settings to Optimize Power Efficiency
Operating System Resources for Power Management
Operating System Tuning Guidance for Maximum Performance
Operating System Tuning Resources for Performance
For More Information
The basic input and output system (BIOS) tests and initializes the hardware components of a system and boots the operating system from a storage device. A typical computational system has several BIOS settings that control the system's behavior. Some of these settings are directly related to the performance of the system.
This document explains the BIOS settings that are valid for the Cisco Unified Computing System ™ (Cisco UCS ® ) M4 server generation (Cisco UCS B200 M4, B260 M4, B420 M4 and B460 M4 Blade Servers and C220 M4, C240 M4, and C460 M4 Rack Servers) using Intel ® Xeon ® processor E5 v4 and E7 v4 family CPUs. It describes how to optimize the BIOS settings to meet requirements for best performance and energy efficiency for the Cisco UCS M4 generation of blade and rack servers.
This document also discusses the BIOS settings that can be selected for various workload types on Cisco UCS M4 servers that use Intel Xeon processor E5 v4 and E7 v4 family CPUs. Understanding the BIOS options will help you select appropriate values to achieve optimal system performance.
This document does not discuss the BIOS options for specific firmware releases of Cisco UCS servers. The settings demonstrated here are generic.
The process of setting performance options in your system BIOS can be daunting and confusing, and some of the options you can choose are obscure. For most options, you must choose between optimizing a server for power savings or for performance. This document provides some general guidelines and suggestions to help you achieve optimal performance from your Cisco UCS blade and rack servers that use Intel Xeon processor E5 v4 and E7 v4 family CPUs.
This document focuses on two main scenarios: how to tune the BIOS for high performance and how to tune it for low latency.
With the latest multiprocessor, multicore, and multithreading technologies in conjunction with current operating systems and applications, today's Cisco UCS servers based on the Intel Xeon processor E5 v4 and E7 v4 generations of CPUs deliver the highest levels of performance, as demonstrated by the numerous industry-standard benchmark publications from the Standard Performance Evaluation Corporation (SPEC), SAP, and the Transaction Processing Performance Council (TPC).
Cisco UCS servers with standard settings already provide an optimal ratio of performance to energy efficiency. However, through BIOS settings you can further optimize the system with higher performance and less energy efficiency. Basically, this optimization operates all the components in the system at the maximum speed possible and prevents the energy-saving options from slowing down the system. In general, optimization to achieve greater performance is in most cases associated with increased consumption of electrical power. This document explains how to configure the BIOS settings to achieve optimal computing performance.
The BIOS offers a variety of options to reduce latency. In some cases, the corresponding application does not make efficient use of all the threads available in the hardware. To improve performance, you can disable threads that are not needed (hyperthreading) or even cores in the BIOS to reduce the small fluctuations in the performance of computing operations that especially occur in some high-performance computing (HPC) applications and analytical database applications. Furthermore, by disabling cores that are not needed, you can improve turbo-mode performance in the remaining cores under certain operating conditions.
However, other scenarios require performance that is as constant as possible. Although the current generation of Intel processors delivers better turbo-mode performance than the preceding generation, the maximum turbo-mode frequency is not guaranteed under certain operating conditions. In such cases, disabling the turbo mode can help prevent changes in frequency.
Energy-saving functions, whose aim is to save energy whenever possible through frequency and voltage reduction and through the disabling of certain function blocks and components, also have a negative impact on response time. The higher the settings for the energy saving modes, the lower the performance. Furthermore, in each energy-saving mode, the processor requires a certain amount of time to change back from reduced performance to maximum performance.
This document explains how to configure the power and energy saving modes for users to reduce system latency. The optimization of server latency, particularly in an idle state, results in substantially greater consumption of electrical power.
This section describes the options you can configure in the Cisco UCS BIOS.
Intel SpeedStep Technology is designed to save energy by adjusting the CPU clock frequency up or down depending on how busy the system is. Intel Turbo Boost Technology provides the capability for the CPU to adjust itself to run higher than its stated clock speed if it has enough power to do so.
One new feature in the Intel Xeon processor E5 v4 & E7 v4 CPUs is the capability for each core to run at a different speed, using Intel SpeedStep. In prior generations, all cores on a chip ran at the same speed.
Intel Turbo Boost depends on Intel SpeedStep: if you want to enable Intel Turbo Boost, you must enable Intel SpeedStep first. If you disable Intel SpeedStep, you lose the capability to use Intel Turbo Boost.
Intel Turbo Boost is especially useful for latency-sensitive applications and for scenarios in which the system is nearing saturation and would benefit from a temporary increase in the CPU speed. If your system is not running at this saturation level and you want the best performance at a utilization rate of less than 90 percent, you should disable Intel SpeedStep to help ensure that the system is running at its stated clock speed at all times.
The C3 and C6 states are power-saving halt and sleep states that a CPU can enter when it is not busy. Unfortunately, it can take some time for the CPU to leave these states and return to a running condition. If you are concerned about performance (for all but latency-sensitive single-threaded applications), and if you have the option, disable anything related to C-states.
You should test the CPU hyperthreading option both enabled and disabled in your specific environment. If you are running a single-threaded application, you should disable hyperthreading.
The core multiprocessing option is designed to enable the user to disable cores. This option may affect the pricing of certain software packages that are licensed by the core. You should consult your software license and software vendor about whether disabling cores qualifies you for any particular pricing policies. Set core multiprocessing to All if pricing policy is not an issue for you.
For latency-sensitive single-threaded applications, you can optimize performance by disabling unnecessary cores, disabling hyperthreading, enabling all C- states, enabling Intel SpeedStep, and enabling Intel Turbo Boost. With this configuration, the remaining cores often will benefit from higher turbo speeds and better use of the shared Layer 3 cache.
You can use the power-saving mode to reduce system power consumption when the turbo mode is enabled. The mode can be set to Maximum Performance, Balanced Performance, Balanced Power, or Power Saver. Testing has shown that most applications run best with the Balanced Performance setting.
For best performance, set the power technology option to Custom. If it is not set to Custom, the individual settings for Intel SpeedStep and Turbo Boost and the C6 power state are ignored.
Intel Xeon processors have several layers of cache. Each core has a tiny Layer 1 cache, sometimes referred to as the data cache unit (DCU), that has 32 KB for instructions and 32 KB for data. Slightly bigger is the Layer 2 cache, with 256 KB shared between data and instructions for each core. In addition, all cores on a chip share a much larger Layer 3 cache, which is about 10 to 45 MB in size (depending on the processor model and number of cores).
The prefetcher settings provided by Intel primarily affect the Layer 1 and Layer 2 caches on a processor core (Table 1). You will likely need to perform some testing with your individual workload to find the combination that works best for you. Testing on the Intel Xeon processor E5 v4 & E7 v4 CPUs has shown that most applications run best with all prefetchers enabled. See Table 2 for guidance.
Table 1. CPU Performance and Prefetch Options from Intel